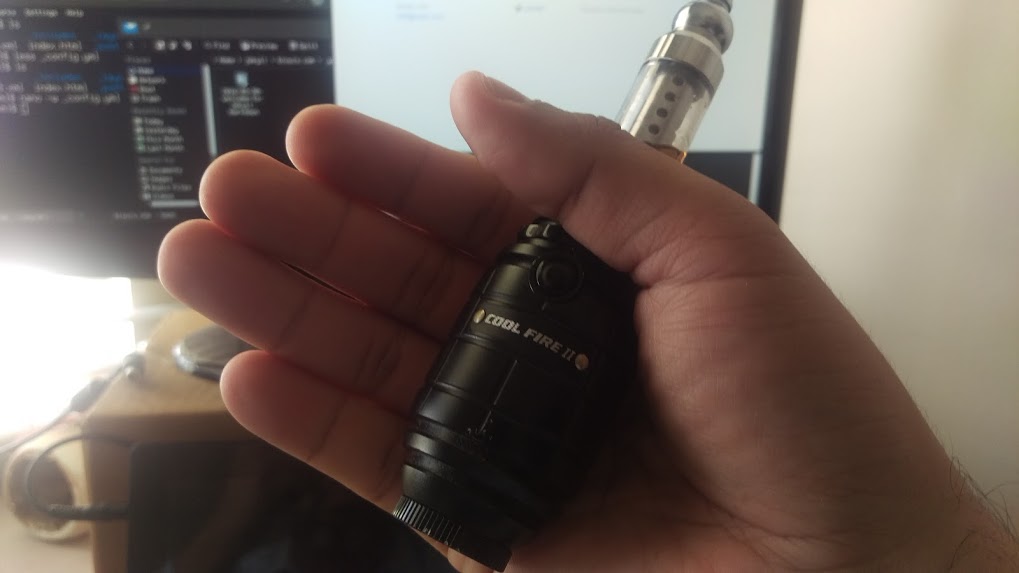 The Innokin Cool Fire II is perfect for stealth vaping. It accomodates an 18350 Ultrafire or Soshine rechargable battery (1-6/16") and lasts 24-72 hours (8.5 watts) before the low battery level indicator turns red. Unless you're taking 20 minute smoke breaks every hour, I'd rate the battery life on this simple and effective mod a 10/10. The Innokin Cool Fire II kit includes an iClear 30 Clearomizer (3-1/16") which is a nice surprise and added further value to my purchase. The base mod stands 3-1/4" and fits snug in hand without feeling disposable and cheap. This is one nice sturdy mod!
Innokin's Cool Fire II matched with a 0.5-1.0 mL clearomizer for stealth vape usage would be dope as fock. My biggest regret with this purchase is simply not purchasing extras as backup and for when the homies come over and chill for a spell. I've unfortunately dropped the mod several times and it continues working flawlessly. The mini grenade shape molds into your hand and has been a welcomed detour from my Innokin iTaste SVD.
I flew from Los Angeles, CA. (LAX) to Minneapolis Saint Paul (MSP) on my carry on without concern. No one bothered me. TSA said not a word regarding the shape or contents of my bag. As a Disneyland Annual Passholder, I take the Cool Fire II into the park several times a year without issue. While not as discreet as a vape pen, the CoolFire is discreet enough for me to feel comfortable cupping it in hand while walking without attracting the attention the SVD attracts when I vape. In my opinion, the SVD is not an outdoor mod since it feels as if I'm carrying a Star Wars light saber and I'm about to go into battle with Darth Vader. If you have a chance to get your hands on an Innokin CoolFire II then do what you have to do to get this little piece into your hands.
comments powered by

Disqus