California DMV Motorcycle Study Guide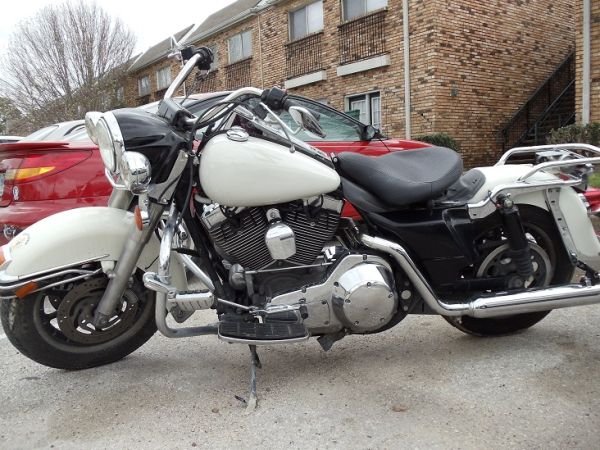 CA DMV Handbook Motorcycle - 2015

Adjust your speed and stay in the center of the lane to create more space in the picture to the left.
Vehicle/motorcycle collisions are most common at intersections.
Check your left mirror and look to the left before changing lanes to the left.
If you press left, lean left, you're going to go left. If you press right, lean right, you're going to to right.
Lean the motorcycle only and keep your body straight in slow tight turns.
Maintain a steady speed or gradually accelerate while in a turn.
Everytime you slow or stop it's best to use both motorcyle brakes.
You should start slowing sooner when riding with a passenger.
It's important to separate braking from swerving when you're swerving on a motorcycle.

The car driver is preparing to enter the intersection. To be seen and maintain a space cusion, you should slow down and move away from the vehicle after entering the intersection.

Riders A, B, and C are a riding as a group. Rider B should return to the right portion of the lane behind rider A to pass the vehicle.
Following closely to a vehicle in front of you is a factor in collisions caused by motorcyclists.
Alcohol affects judgement once it enters the bloodstream and reaches quickly reaches the brain.
Most collisions involved riders who overbrake the rear tire.
Make a special point to use mirrors when slowing or stopping.
The center portion of the lane is the best to turn from when you plan on making a right turn after stopping at an intersection.
Not turning off a turn signal encourages other drives to pull into your path.
Apply the rear brake and steer to the edge of the road when the front tire goes flat while riding.
Look through the turn to where you want to go when you make turns.
Riding in the center portion of the lane keeps others from sharing your lane.
Wearing a helmet will reduce your chances of a head injury.
Close the throttle and apply the breaks to reduce speed before turning.
To operate the throttle start with your wrist flat.
Keep the load low and as far forward as possible when carrying loads.
comments powered by

Disqus